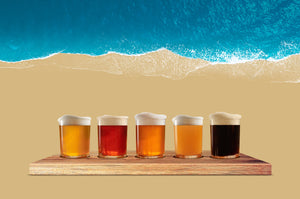 OUR BEERS, CIDERS AND OTHER BEVERAGES
We have perfected a wide selection of good honest craft beers in our core range, but being a craft brewery, we often rotate new varieties or let our brewer loose with some experimental brews!
We also craft some very fine ciders, a ginger beer, a range of seltzers, liqueurs such as limoncello with other liqueurs and spirits coming soon.
Come and visit our taproom for a tasting and, if you can round up a few mates, why not book a brewery tour to enjoy a guided tasting session and learn about our beer making process?
MADE WITH PREMIUM INGREDIENTS AND QUALITY CONTROL.
Our base malts are Australian with specialty malts from Europe and the USA. We store the malts under inert gas to protect them from oxidation and vermin. The malt options and varieties allow for tens of thousands of malt base beer possibilities. 
Our hops are sourced from Australia, New Zealand, the USA ,and Europe. We use special technology to maximise hop flavour and aroma into the beer. All the hops are vacuum sealed in freezers to preserve the delicate hop oil. 
Our yeast is carefully selected to suit the style of beer being created, delivering a unique experience with every beer. The yeast is kept in freezers to preserve its vitality. 
We don't use any chemicals to settle the yeast or preserve the beer. The finished product is naturally filtered to remove the yeast. 
Our water is purified and blended to meet specific requirements of famous brewing regions in the world. Our Pilsners use light waters, our ales used harder waters and our darker beers use harder waters with higher alkalinity - just like the famous brewing centres around the world.