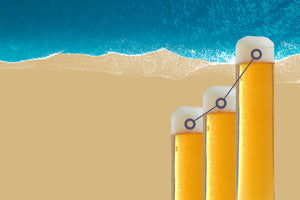 Be part of the craft brewing boom.
We have big plans to take our unique business model and highly scalable operation into other Australian capital cities and, ultimately, overseas.
In Perth, our operations currently include a brewing hub and three craft brewhouse venues, with another one in construction phase. There are 5 more venues in various planning stages. We are also contract-brewing for 3 Ravens and Nail craft beer brands, selling in bottleshops. Our brewing hub can support up to 20 craft beer brewpub venues, and we see opportunity to replicate the 'hub & spoke' business model in other cities.
We are currently looking to raise $10 million in a pre-IPO round to expand into Melbourne and prove the business model before listing on the ASX in 3 years. 
THE SEGMENT IS FAST GROWING.
Craft beer is the rapidly expanding segment of the $623 billion  global beer market, growing at a rate of 10% year-on-year.
The production of craft beer in Australia has evolved into a large and rapidly growing industry with annual sales in excess of $370 million.
Today's consumers are much more discerning about the beers they choose and the venues they frequent. They actively seek out local craft brewers to support 
and seeing the brewing tanks at a venue is part of the theatre.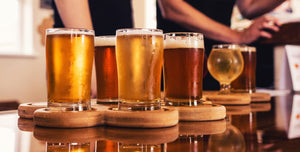 PEOPLE LOVE GOING TO VENUES WHERE BEER IS MADE.
AUSTRALIAN CRAFT BEER SURVEY.
Beer Cartel conducted extensive surveys on the craft beer market in Australia in 2020. They surveyed 17,000 beer drinkers to gain valuable insights about the craft beer market. Here are the findings:
ATTITUDES TO CRAFT BEER.
92% believe the quality of craft beer in Australia is improving
87% encourage friends and family to try craft beers
89% big supporters of independent craft beer
93% Australian breweries need our support more than ever
ATTITUDES HAVE SHIFTED.
Due to the pandemic, Australians sought out local craft beers more than ever.
34% more likely to choose local craft beer
16% less likely to choose mainstream beer 

HOW OUR HUB AND SPOKE MODEL WORKS.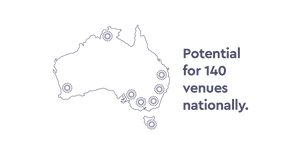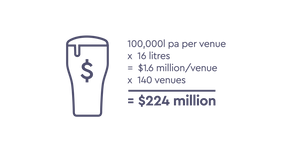 A CHEMICAL ENGINEER, AN ELECTRICAL ENGINEER, A MARKETING MANAGER, A CORPORATE FINANCIER AND A LAWYER WALK INTO A BAR…
OUR STORY.
Limestone Coast Brewing grew from humble beginnings. Almost three decades ago, a chemical engineering student and an electrical engineering student started experimenting with home brewing at their share house. These young men on a mission took it to the next level with some very sophisticated innovations and computer-controlled system engineering.
Later in life, after successful careers in their chosen fields, their minds turned to brewing again. With a wider expert team, they explored the rise and rise of the craft beer market and identified a need for an elegant solution to help hospitality venues to become small local craft brewers.
The result is a patent-pending world-class system that sits in your venue on a small footprint. Limestone Coast Brewing partners with you and puts our own skin in the game to provide a complete service. We are responsible for consistently helping you produce great beers, ciders, or seltzers. The more successful we can make your business, the more successful we become.
BRAD HILL
Brad Hill is a founding shareholder and a Non-Executive Director of LCB and has a 20 year career in corporate finance. As a connoisseur of craft beer Brad also performs the handy task of quality control and makes numerous suggestions to the more technically gifted, many of which will never see the light of day but occasionally he is brilliant.
GEOFF MUNDAY
Geoff is a founding shareholder, Managing Director and Technical Brewer with over 30 years experience as a Chemical Engineer in the fields of design, operation and maintenance. He has been innovative in combining well established brewing science with other well established technology and business processes from a variety of industries in which he has previously worked.
SVEN GRONE
Sven is a founding shareholder, Technical Director and an Electrical Engineer, with over 27 years of experience with industrial automation and controls. He brings a wealth of knowledge & experience to LCB's cutting edge brewing process. He is responsible for designing & implementing all of the automation, controls and remote monitoring technology we use at LCB, and helps to bring Geoff's brewing vision to life within our unique brewing process.
GEORGE GRONE
George is the Lead Brewer, responsible for beer production and operational logistics. With over 25 years experience as a chef and Hospitality Manager he contributes to recipe creation and refinement and supports the operational and logistical needs of the business.
JASON MACDONALD
Jason is a founding shareholder and a Non-Executive Director of LCB and a practicing lawyer. His guidance regarding all legal and corporate responsibilities ensures we remain on the straight and narrow, and always ahead of the curve. Like most lawyers, he is also a connoisseur of craft beer and along with Brad is key to product sampling and quality control.
JORDAN MUNDAY
Jordan is a brewer who comes to us with nearly 10 years experience in hospitality as a chef from both Australia and Canada. Jordan works closely with George in developing products and hand crafting every batch.
MARK ADAMS
With a career spanning three decades throughout Hospitality, Tourism, Sporting, Recreation & Leisure industries; Mark Adams has navigated a pathway around some of Australia's most recognized destinations. He has experience general managing major entities like the Accor Hotels group and has worked in facilities from Broome, to the Whitsundays, Margaret River and his hometown of Perth.
KEN FREER
Ken Freer is an Advisory Board Member with over 25 years' experience in fast-moving consumer goods, sports marketing and alcohol brands (including his role as Managing Director of Lion Co Qld, the home of XXXX beers). Ken is also Chief Operating Officer for the Brisbane office of BlueMount Capital. He has a strong track record of delivering results, growing EBIT performance through revenue growth and efficiency.
JOHN AHERN
John is an Advisory Board Member with over 30 years hospitality experience as an owner operator of over 20 venues across Australia. John has demonstrated success with developing annual sales goals and strong action plans, implementing appropriate organisational structures and business plans. John has a creative mindset and excels in guiding teams through complex business strategies.
INVESTOR NEWS.
LIMESTONE COAST BREWING INSTALLS CRAFT BREWERY IN SOUTHERN CROSS, WA.
LCB takes craft brewing to regional WA with Goldfields Brewing Co.
READ MORE
PRESENTATION TO EMERGENCE 2022 INVESTMENT CONFERENCE.
Watch Brad Hill's presentation at the Emergence 2022 Conference as he explains the unique business model and opportunities to invest.
WATCH NOW
WHOLESALE INVESTOR CRIISP TV INTERVIEW WITH BRAD HILL.
Founding partner, Brad Hill, discusses Limestone Coast's highly innovative brewing technology in an interview for Wholesale Investor's CRIISP TV.
WATCH NOW